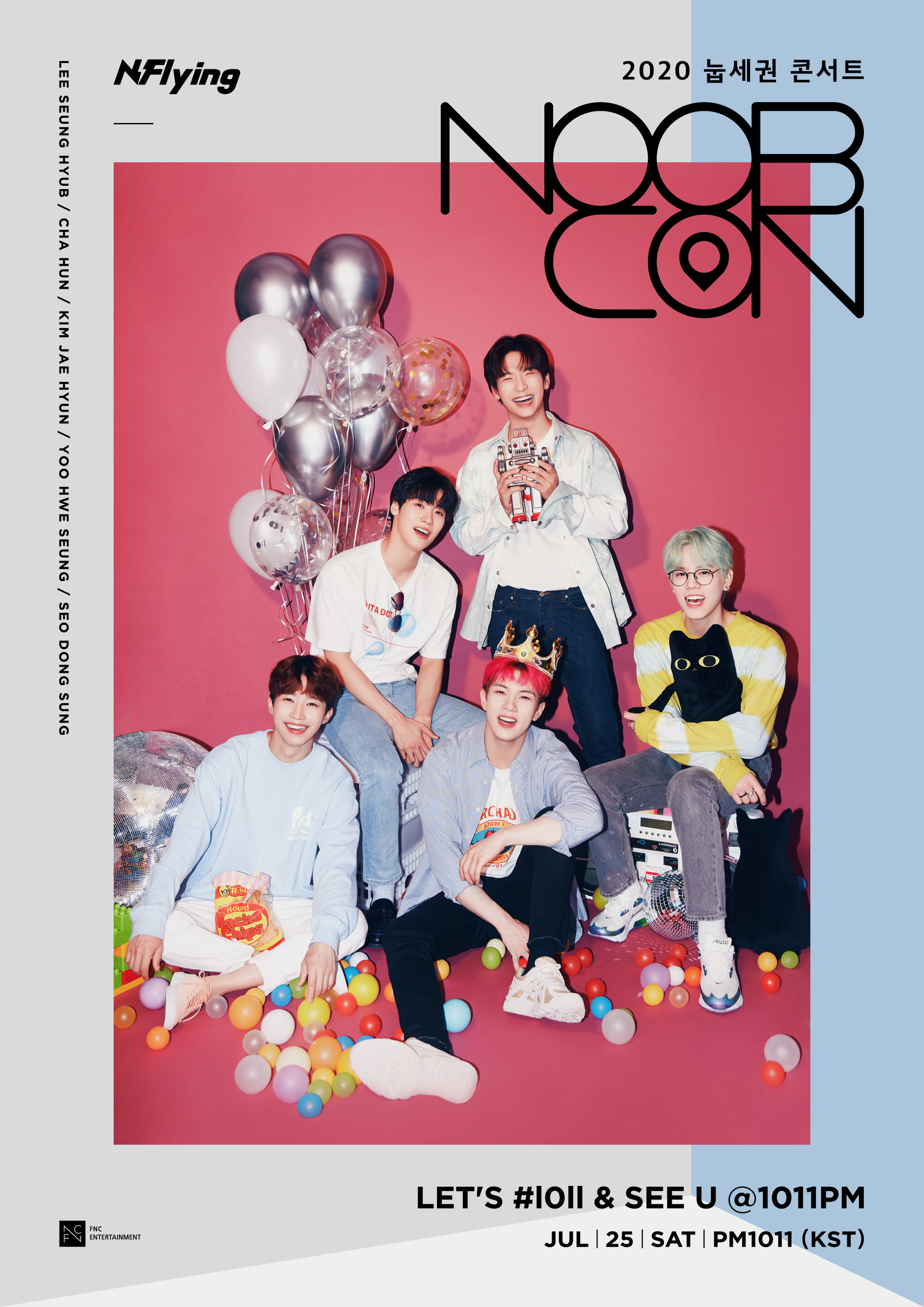 안녕하세요.
FNC 엔터테인먼트입니다.

2020년 7월 25일 엔플라잉의 온라인 콘서트 "NOOB CON - N.Flying"이 진행됩니다.
상품 구매를 원하시는 분들은 아래 사항을 참고해 주시기 바랍니다.

판매일시: 2020년 7월 14일(화) 오후 17:00
판매링크:
[1] VLIVE+ : LIVE 관람권 구매 가능
https://www.vlive.tv/product/ds00u00u00000195
* LIVE 관람권 (동일 라이브 스트리밍 2회) + BOON CUT (스페셜 영상) + INTERVIEW
[2] YES24 : 결합 상품(LIVE+MD) 및 MD 단일 상품 구매 가능
http://www.yes24.com/eWorld/EventWorld/Event?eventno=188037
※ 상기 링크는 판매 일시에 맞춰 활성화될 예정입니다.

여러분들의 많은 관심 부탁 드립니다.
감사합니다.


Hello,
This is FNC ENTERTAINMENT.

On July 25th, 2020, N.Flying's online concert "NOOB CON - N.Flying" will be held.
If you would like to purchase the items, please refer to the following information.

Date: July 14th, 2020 (Tue) 17:00 PM (KST)
Sales Link:
[1] VLIVE+ : Purchases of Live Ticket
https://www.vlive.tv/product/ds00u00u00000195
* LIVE Ticket (Identical Live Streaming for 2 times) + BOON CUT (Special Clips) + INTERVIEW
[2] YES24 : Purchases of Set Items (LIVE+MD) and MD Single Items available
https://global.yes24.com/Event/188038
※ Link above will be activated on the time of sales.

We ask for a lot of interest from you.
Thank you.
大家好,
这里是FNC ENTERTAINMENT。

N.Flying线上演唱会"NOOB CON - N.Flying"将于2020年7月25号举行。
有意购买相关产品的观众请参考以下事项。

销售时间:2020年7月14日(星期二)下午17:00
销售链接:
[1] 可购买VLIVE+:LIVE观影券
https://www.vlive.tv/product/ds00u00u00000195
* LIVE观影券(两场相同视频直播)+ BOON CUT(特别视频)+ INTERVIEW
[2] YES24:可购买结合商品(LIVE+MD)及MD单项商品。
https://global.yes24.com/Event/188038
※ 上述链接将根据销售时间被激活。

请大家多多关心。
谢谢大家。